Actividades extraescolares 2018/19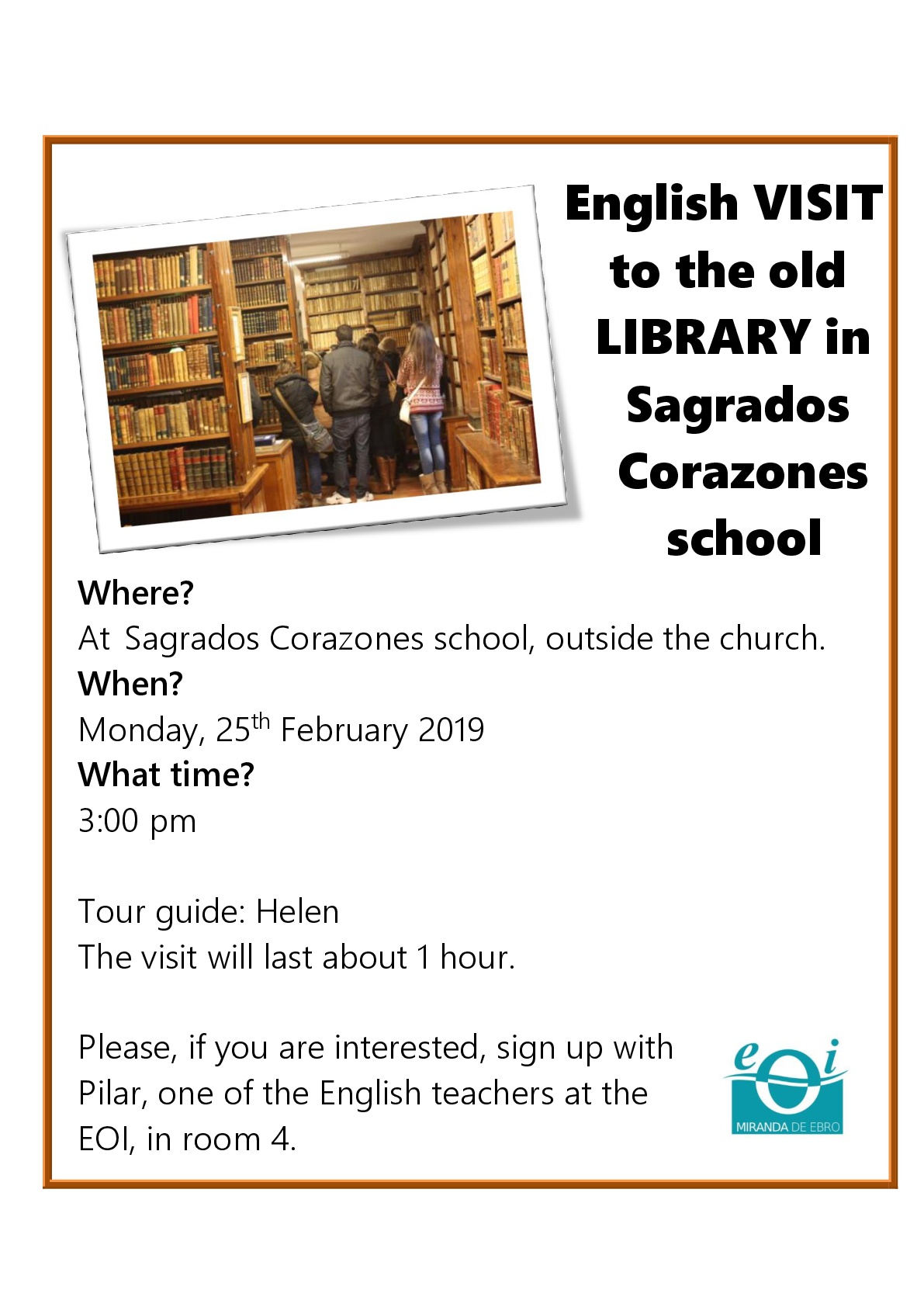 English VISIT TO THE OLD LIBRARY
 Last Monday, 25th February 2019, a group of 25 EOI English students visited the old library, in the ancient Franciscan Monastery.
During the Independence War, a huge fire burned the library.
In 1880 the Sacred Hearts Community received the keys of this convent.
This old library has some important books, such as mini 'Don Quijote' which is the only one that there is of its kind.
One of the books, whose name is Aesopi Fabulae, was written in 1542.
The only book written by a Franciscan was in the year 1617.
From my point of view, this library is a museum with a lot of science and history books.
Visiting it gives you a great feeling.
Noemí
 ******
 Last Monday, 25th February 2019, a group of about 25 EOI English students visited the old library in Sagrados Corazones, Miranda de Ebro. 
 It's fascinating the smell of thousands of ancient books full of history. It's really a magic place and a great treasure! 
 Thanks a lot to our EOI teacher, Pilar Miguel, to Helen Jones, an excellent tour guide in this wonderful trip through history, and, of course, thanks to Javier Garito.
Begoña
 ******
 The Library in Sacred Hearts School.
 Cultured Tour guided by Pilar and Helen when we were introduced to the world described by Umberto Eco in "The Name of the Rose".
 The mysterious "Saeculum". 
We saw letters, books, hand-painted illustrations, different types of writing pens, or images drawn on glass
telling French stories of that time.  The library of The Sacred Hearts is a treasure.
 Marta
 ******
 SAGRADOS CORAZONES LIBRARY 
It is one piece of a jewel at a national bibliographic heritage level.
 This library keeps about 25,000 copies. Among them some unique ones in Spain, like the oldest that was written in 1542. With a smell of old books, aesthetically sorted on big wooden shelves, and computerized a few years ago. 
 As this school has a French background it keeps lots of French books. There are some handwritten parchments, documents, science and medical books from between 16th and early 20th centuries. 
 Most of them have leather cover. There is great information about the world flora and fauna. 
 The most interesting book for me is one Quixote written in six very little books because there are only three copies in Spain.
 In my opinion, everybody should visit this amazing library.
 Luisa
 ******
 THE EOI VISITS SAGRADOS CORAZONES LIBRARY
 On Monday 25th, the English students visited the ancient Sagrados Corazones library.
 Firstly, the library received us with a special smell, the smell of time. Helen, our guide, showed us different areas of the place, thanks to her we learned about the history of the library and the origin of many books (most of them in French), we could see books of Medicine where people drew parts of the body in detail, books of Botanical, little books of Don Quixote de la Mancha, Espoo's fable and writing instruments like quills and ink, among others.
 At the end, we could see several encyclopaedias, a beautiful pipe organ, and vinyl records.
Bea
 ******
On Monday February 25th, at 3 pm. we were invited to visit the library of Sagrados Corazones. We saw a lot of books of all kinds.
The first impression was the smell of all the rooms full of interesting books.
The guide is from Liverpool, she is a teacher in Miranda de Ebro but she lives in Vitoria. I think she teaches English but I'm not sure.
Also they showed us the choir of the church and its large organ, it's beautiful.
I love all kinds of music and instruments.
I am impressed with the books that have drawings of surgeries and anatomy.
They are drawn with quill and ink, handmade.
This is an experience to repeat.
Marian
******
The Official School of Languages of Miranda del Ebro in Spain has a fantastic idea to improve English learning for its students.
They have created guided visits to interesting places like the old Library of Sagrados Corazones School. The tour, conducted in English, offers students the opportunity to practice their language skills in a different environment.
The library connects visitors with its historic past offering books as old as the seventeen-century, fascinating students with its treasures.
As teachers, we also encourage these initiatives because we know they effectively help students when learning new languages.
Beatriz and Francisco Camacho
Beatriz is an ESOL teacher at Fairfax County Public School Virginia, USA.
Francisco Camacho is Adjunct Professor at the IT department in George Mason University in Fairfax Virginia, USA.